COOL, CREATIVE, SOCIAL GOOD.
What started out as a simple idea has transformed into a fully functioning print shop that distributes gear nationwide. North O Print Co. is a small screen printing shop that produces brand boosting apparel and accessories to people and organizations who want to pay it forward by purchasing quality products that support a great cause. North O Print Co. supports ENCAP's mission of reducing the power of poverty in our community. 
WHERE IT ALL BEGAN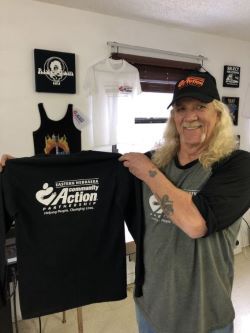 "My name is Mark, and I am 57 years old. At a very early age I started working with my hands. My dad was very mechanically inclined and passed that on to me. I built my first wooden go-cart at around 8 or 9 years old with minimal help. I bought my first car at 14 and immediately took the engine apart to see how it worked. At age 20, I got my first print job and worked at various print shops around Omaha, NE for the next 30 years.
About 10 years ago I had the chance to buy a screen printing set-up. I taught myself what I needed to know and started printing t-shirts.  My life was up and down during that time. I had collected a number of tickets and had several brushes with the law. At one time I was unemployed and my utilities were way behind. I stumbled across ENCAP for help with my bill.
A couple of years ago I was in need of some counseling and remembered ENCAP could provide that to me. As I was leaving the agency one day, the Executive Director flagged me down and asked if I had a few minutes. He had heard of my printing experience and took me upstairs to show me some equipment.  "Would you know anything about this stuff?" I couldn't believe what I was seeing – these were parts of an entire commercial print shop. He saw the potential to build a job-training business, and he saw the potential in me. I started as a volunteer, putting everything back together and started to print, and ENCAP made me a full-time employee in January 2019.
Everything happens for a reason. I don't think I could find a better bunch of people to work with, and I can't wait to print something for you and your team."