The Bellevue Food Pantry (operated by ENCAP) provides emergency food support for households in Bellevue NE.
---
Food Distribution Hours:
Tuesdays: 9AM - 4PM
Wednesdays: 9AM - 7PM
Thursdays: 9AM - 4PM
1st & 3rd Saturdays of the month: 9AM - 12PM
Location: 1908 Hancock Street in Bellevue
Please place your ID, and proof of address (utility bill, SSI or SSDI letter, etc.) in the mail slot, and we will bring your food basket out to you. 

ENCAP is currently following health and safety measures, and staff will be wearing masks and following social distancing guidelines. Please wear a mask while you are visiting us at either 1908 Hancock or 1912 Hancock. 

DONATIONS: 
We are currently accepting donations anytime during operating hours (see above) If you would like to arrange a specific donation drop off time just give us a call to arrange something that works for you: (402) 292-2961. 
We accept monetary donations at anytime online HERE. 
CRITICAL NEEDS: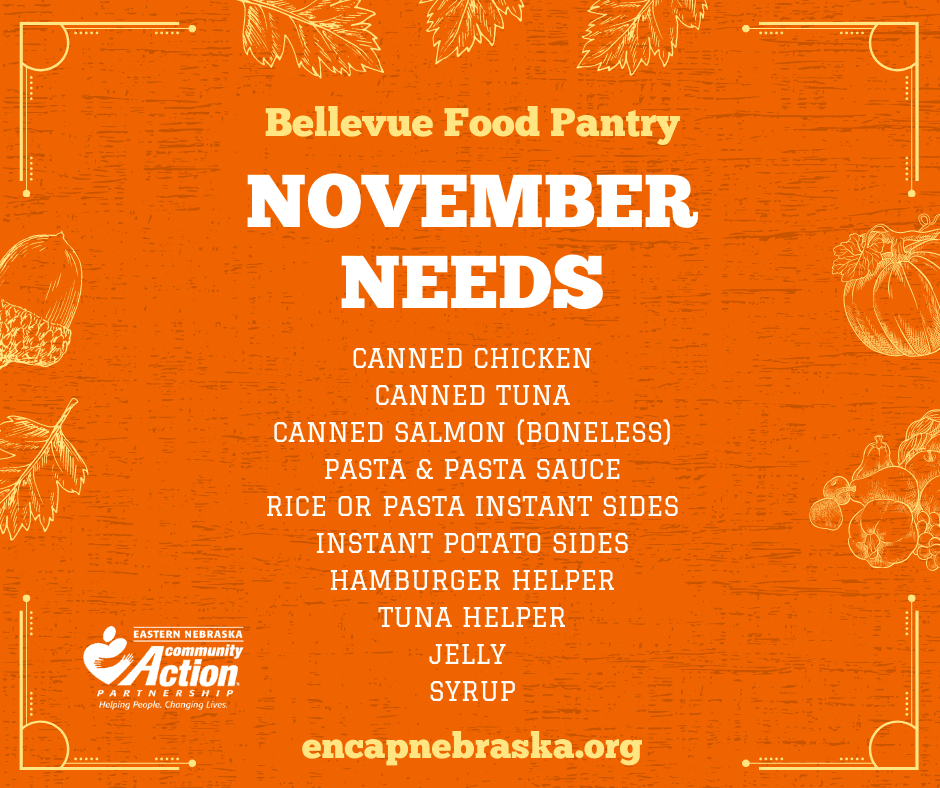 ---
Additional Resources:

1. Tri-City Pantry: 302 American Parkway (Papillion)
     o    Mondays & Thursdays: 5:30 p.m. – 7:00 p.m.
     o    Tuesdays & Fridays: 1:00 a.m. – 3:00 p.m.
Clients must arrive at least 10 minutes before closing to receive services.
The pantry is closed on holidays.
2. Food Bank for the Heartland 
3. Supplemental Nutrition Assistance Program (SNAP)
     o     Application (via ACCESS Nebraska)